Software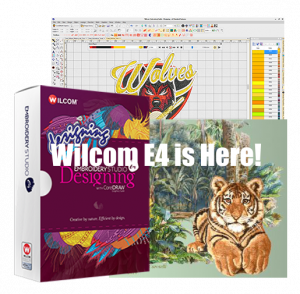 E4 is Here!  Great Prices on Trade-Ins, Updates and Upgrades!
Integrated with Corel X8, Wilcom E4 Designing contains all the features previously found in E3 … combined with New Updated features and NEW tools that allow you to Digitize your designs even more easily!  25 more Fonts, 6 are 3D!  Save your customer information with your design now!  Instantly generate the thread numbers from your favorite thread company! Catalog and find your designs on your desk top!  Easy to Learn… Wilcom E4 is a Show Stopper!
Add "Elements"  at a VERY SPECIAL Price … But only Until the End of the Month!
Call for Details. Learn what's new!  See our Video on "What's New in E4" for Yourself!  TRADE-IN your old Software, or Update or Upgrade your Existing Wilcom…No matter how old!
Move into E4 with every Element you have now. Then add Wilcom Elements you do not have at this month's Special Sale Price!
760-200-0508 or 1-800-445-8705  for pricing and information.
Or email us at balboainfo@aol.com
Showing all 5 results