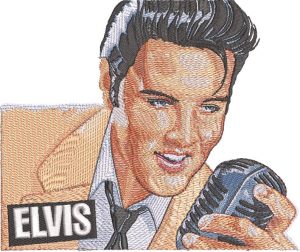 Lee and Keith Caroselli have been the proud recipients of numerous International Grand Prizes.  The realism in their work is unsurpassed.  They are recognized world wide for their Excellence and Innovation in Embroidery and have been voted into the Embroidery Hall of Fame by their Peers.  The Elvis Presley Stamp, done by Lee, created as a Custom piece, introduced blending to the Embroidery Machine Industry.  Created when most machines had only six needles, this design has just six colors.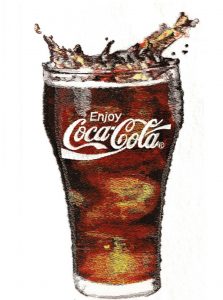 To the right you will see another custom piece, both the Elvis design and the Coca Cola design are licensed pieces and are not for sale
Custom pieces start at $1500.  However, if you are willing to allow the finished piece to be featured in the Balboa Design Library, as a stock design, your price will be just $175.
Below, you will see a selection of Lee's work.  So that you may appreciate the quality, we have placed the customer's photograph beside the finished embroidered piece.
These are examples of the Art that was sent in by a client, and the
finished Stitched Pieces.
You may recognize the finished piece as one our Featured Designs.
If you, or your Client will allow us to use the design
in our Library, the cost is $175. A Full release is required.
A form will be sent to you so that the copyright requirements can be met.
You may contact us at 760-200-0508.
Once the work is done, the image will be placed
in our library for sale.  If your client decides that they
would rather have the design for themselves, they will
be charged $1500, and whatever production costs
we have been incurred.  However, once the Design has been distributed
and the Catalog printed, the design cannot be recalled.
Meanwhile, we hope you will enjoy these Beauties.