Login
FLASH SALE Learn to Digitize Webinar Video and Workbook
$350.00
LEARN TO DIGITIZE with great instruction! Review with the virtual Workbook.
Description
The Learn to Digitize Video and virtual Workbook approaches digitizing by first looking at the art you are copying, then at the three basic stitches, the Running Stitch, the Column or Satin Stitch, and the Fill or Tatami Stitch. The emphasis is on mastering each of these three stitches, then mastering combining them in a design.  Your basics are covered, and Blending and Shading are introduced.  The class has a virtual workbook.  Once you have completed the class you can then go to the Workbook and page-by-page do exactly what you saw Lee do in the class.  As you open each page, or homework assignment, you are given instructions on where to find that technique on the "timeline" of the Class videos.  The workbook is a great review, an even greater way to be sure you understand the process.  This group of videos will put the final polish on your digitizing techniques!
MASTER YOUR STITCHES FOR CORPORATE LOGOS, AND REALISTIC DESIGNS…and LEARN TO BLEND AND SHADE!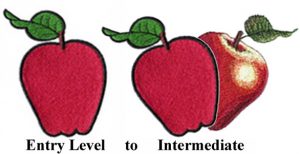 Not Software Specific, these are techniques that may be done on any digitizing Software.
Videos are combined with a virtual workbook to test your skills, and guide you back to the areas you need to review.
This is a Must for those of you who are sending your designs out. You will learn what you should be getting, and how to edit, so that you get what you need.
An even bigger MUST for those of you who are digitizing, and have the frustration of knowing you followed all the rules, and still edit," tweak," and edit again, and know it still could be MUCH better.
If other classes have left you feeling that you could never Digitize, this one will show you how simple it can be. Learn where to place your stitches…and WHY!  Get rid of the Frustrations and your apprehension.
Create designs that look good and run well. Have the confidence of knowing that what you see on the screen is what you will get.
Start with your art, then your set-up, move to the fundamentals, end with Blending and Shading.
Solve all your problems in just a few hours. Create Designs with no push-pull, no distortion, with outlines that line up!
Learn what are the perfect underlays, the ones that hold the design together and will work on any fabric, use them to add texture and interest.
Then go to the virtual workbook. Each page with an essential exercise and directions on finding that lesson on the video timeline.  Review that section, if necessary, and try again.  You will build an understanding of the process that will allow you to do everything you desire…and enjoy it.
A small investment in both time and money for what you will get!
Only logged in customers who have purchased this product may leave a review.